Calusa advocacy is ongoing, and involves a grassroots group of residents and neighbors volunteering time and skills to advocate for wildlife, habitat and quality of life protection in our community. Though many residents have been advocating for over a decade, we created a non-profit Save Calusa Inc. in Dec 2021 to formalize our grassroots group and filed litigation against Miami-Dade County regarding the most recent zoning approval for application Z2021000031. Please see details on our LITIGATION PAGE.
Our community advocacy is focused on four areas:
Advocate for the importance of community resident input in the zoning process and decisions that affect resident quality of life.
Advocate for the protection of wildlife and their habitat, and accurate, thorough environmental surveys to determine wildlife utilization and necessary preservation on 168 acres of green space.
Engage and encourage residents in Calusa and across the County to be informed and get involved in County decision making that affect resident quality of life.
Increase awareness of how our 99 year land use covenant protecting 168 acres of parks and recreation green space was released through a series of litigation and financial settlements while excluding 5000 residents and their concerns.
Calusa Property
Calusa is in Unincorporated Miami-Dade County, approximately one square mile between sw 137th and sw 127th ave, and sw 88th street (Kendall Drive) and sw 104th street. Calusa is part of West Kendall, and in Miami-Dade County District 7, though it also borders Districts 8, 9 ,10 and 11. The Calusa property is 168 acres of green space designated parks and recreation land, and was a former golf course that the owner chose to close in 2011. The Calusa property was purchased in 2003 for 2.7 million by Facundo Bacardi, who then sold it in 2021 for 32 million, to a joint venture with GL Homes called Kendall Associates I LLLP (Bacardi continues to own 35%). The proposed development, a large scale residential private community of 550 luxury single family homes. was approved by the County Commission in Nov 2021.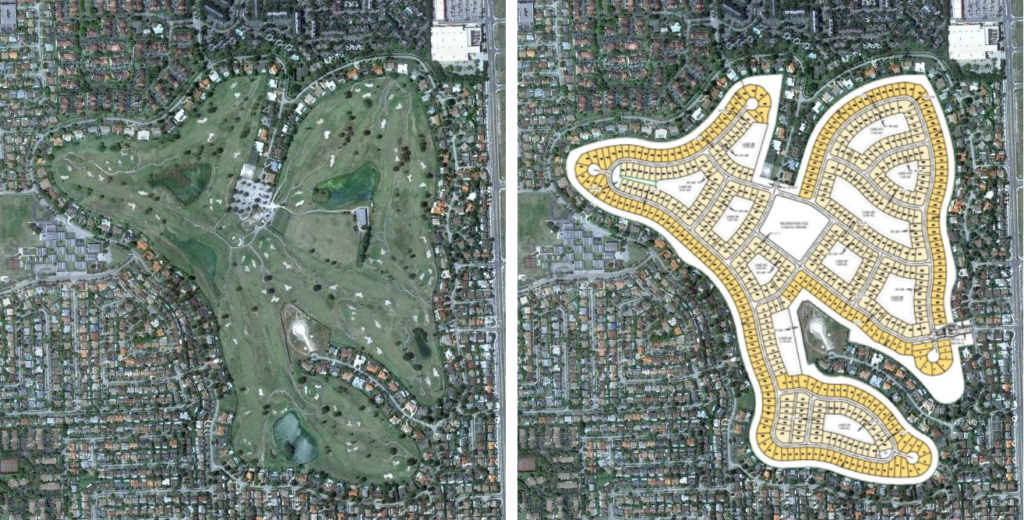 Nov 2021 Zoning Approval and Lack of Proper Notice
The public zoning hearing was originally scheduled for Oct 20th, however at the Oct 19th County Commission meeting, they cancelled the Oct 20th zoning hearing due to lack of quorum. Proper notice was not provided for the November 17th public zoning hearing, as the County did not re-issue a newspaper notice for the new hearing date. Though a courtesy sign and mailing was provided, those are only accessible to residents within 1/2 mile radius which doesn't even cover all residents in Calusa or parents with students attending Calusa Elementary school. We truly believe every voice counts and deserves to be heard, particularly since this was the one and only opportunity for residents to express their concerns in person to the County Commission before they considered a significant zoning change.
For years, Calusa residents begged the County to hear and address their concerns with the proposed development. Residents wrote published Op Ed's, letters to papers, conducted media interviews, requested a town hall meeting or workshop, and frequently attempted to contact District 7 Commissioner Raquel Regalado. The County refused to provide a noticed meeting even "in the sunshine" for residents. The developer held one "town hall" via zoom, which was more of a sales presentation where residents were not permitted to speak and before wildlife surveys were made available.
Residents then hoped the over 3500 petition signatures, and 981 protests on file would encourage our elected officials to listen to their concerns and take action. However, residents were limited to 1 minute at the public zoning hearing, and resident concerns were dismissed and ignored. There are no community benefits, no long-term solution for school capacity, no improvements to community pedestrianism/protected biking, no true traffic solution and even though the County Parks Dept recommended a 5 acre park, the developer was not required to provide one and instead chose to simply pay park impact fees.
Wildlife and Habitat
The Calusa property is home to many species of wildlife. Residents are not confident that full wildlife utilization of the property has been provided by the owner/developer. Before the 2021 hearing, the environmental consultant visited the property in December 2020 and documented two State Threatened birds around the southern lake. However, they did NOT identify a rookery, or survey the property during the FWC breeding/nesting period March-August. Fortunately, residents did survey the Calusa Rookery and documented several species of nesting birds, including the State Threatened tricolored heron which was reported to FWC and added to the FWC map of imperiled wading bird colonies.
We have three main concerns with the inaccurate and incomplete wildlife and habitat information provided to County Commissioners before the Nov 2021 hearing:
The staff recommendations indicate "no rookeries were identified, and accordingly it appears that the species use the property for foraging and feeding", and directly contradicts the DERM memo which states the rookery must be surveyed during the next FWC breeding/nesting season.
The staff recommendations do not include the fact that the Calusa Rookery was added to the FWC map of imperiled wading bird colonies, and FWC did not provide any consultation on the wildlife utilization or site plan prior to the Nov 2021 zoning decision. We feel strongly that much more information was needed before Commissioners determined appropriate use of the property, and are very concerned that wildlife and their habitat may not be adequately protected.
High endangered Florida bonneted bat activity was confirmed on the property using acoustic surveys, including social calls. However the weather during these surveys did NOT meet recommended USFWS guidelines and should be repeated. An emergence study, looking for bats at sunset was also not performed. A roosting survey was conducted and only 7 trees of more than 580 were found to have cavities that were then searched for bat roosting. No roosting was found. USFWS did not provide any consultation on the property prior to the Nov 2021 zoning hearing decision, even though though the 2019 US FWS Bonneted Bat Consultation Key says "projects in the South Florida Urban Bat Area should contact the USFWS for specific guidance addressing this area and individual consultation". The owner/developer simply took the USFWS Best Management Practices document and selected certain BMP's to implement.
Active Litigation
On Dec 27th, 2021 Our non-profit Save Calusa Inc. filed a writ of certiorari challenging the Commission's zoning approval on a number of procedural and substantive grounds including:
1. quash (reverse) the Miami-Dade Board of County Commissioners zoning and development approval of 550 homes on 168 acres of parks and recreation green space intended to be protected until 2067, due to lack of proper hearing notice
2. request an order staying (stopping) tree/building removal permits until environmental studies are complete
For more details and the current status please see our LITIGATION page.
Covenant
A land use covenant existed requiring the Calusa Golf Course to remain a golf course for 99 years. It was created in 1968 and was valid until 2067! The owner of the golf course requested to release the covenant in order to develop the land and build a largescale residential development. This covenant was meant to protect the land, and gave the homeowners within 150 feet of the golf course, also called "ring owners", the responsibility to protect the covenant, the land, and their community. This is something they should take very seriously! To remove the covenant, 75% of the ring owners would need to agree and give consent to remove it, AND the County Commissioners also needed to agree through a zoning application. The covenant was partially released (on all but 5 lots) on October 29, 2020 by the Board of County Commissions at a public hearing with signed releases on record for 123/146 "ring" homes. Community residents STRONGLY objected to the way the covenant was released, as it involved a closed door private financial settlement for the 123 homes that allegedly received between $50,000 to 300,000+ plus an additional 50 feet of land in their backyards in exchange for releasing the covenant and ending ongoing litigation.
Community Events, Media and Public Hearings