Here are some different ways you can help us Save Calusa!
Letters requesting mayoral VETO
You don't need to live in Calusa to send a VETO letter! All County residents should be extremely concerned with how our covenant was released, the lack of public input, and the impacts to our wildlife and environment. VETO letters from our template link are sent to Miami-Dade County Mayor Daniella Levine Cava automatically.
There are two ways to send a protest letter to Miami-Dade County (choose one):
Use this form https://savecalusa.good.do to send an automated VETO letter. You enter your name and address, and it fills in the subject line and sends it to Miami-Dade County directly for you. Your name and address are important so the County can verify that you are a County resident. You may change the text of the email before sending it so it reflects your personal opinions and concerns.
Send your VETO letter manually via email:
Subject line: Z2021000031 protest letter
Send to: mayor@miamidade.gov
Copy: kendallstrong2020@gmail.com and district7@miamidade.gov and your County Commissioner (see below for instructions and contact information for each Commissioner)
In the message body, your first line should be: Please VETO the proposed large scale development in Calusa.
Include your full name and home mailing address (they need to make sure you are a real person!)
What to talk about: make it personal! Talk about your personal experience, mention if you work or live in Calusa, talk about the lack of public input in the proposed development, lack of community benefits, traffic, schools, wildlife, infrastructure, that this is parks and rec land intended to be protected until 2067 by a covenant that should not have been released, responsible development that balances resident quality of life…
Other ways to help:
Get a lawn sign or T-shirt! This will help extend our reach to even more members of our community! We are stronger together! Please complete this fancy form to request one (or both!) https://forms.gle/3MKDDnGdrZXor3ds8
Are you part of an HOA or community group that could provide a letter on behalf of the organization? Email us for more details on how your group may help Save Calusa: kendallstrong2020@gmail.com
Spread the word! Please check this website, follow us/like/share on social media (see footer for links), and ensure our community is engaged and informed to be prepared for next steps to continue our fight of the proposed 550 residential development to replace our 168 acres of greenspace.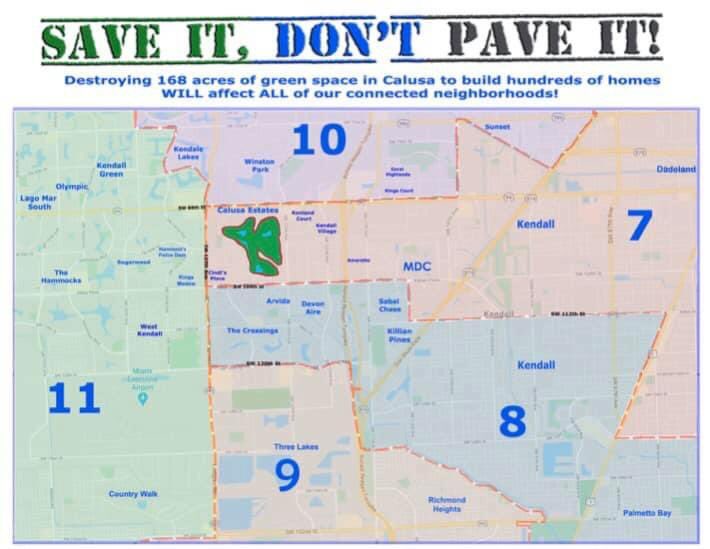 Miami-Dade County Commissioner Contact Information
Find your commissioner by going to this link and typing in your address: https://www.miamidade.gov/global/government/commission/home.page
If you are sending an email, please also copy kendallstrong2020@gmail.com so we have a record of your opposition to this large-scale development! Thank you!
Once you know your commissioner, use the information below to contact them:
District 1 Vice Chair Oliver G. Gilbert, III
Office: 305-375-5694
Email: district1@miamidade.gov
District 2 Commissioner Jean Monestime
Office: 305-375-4833
Email: district2@miamidade.gov
District 3 Chairwoman Keon Hardemon
Office: 305-375-5393
Email: district3@miamidade.gov
District 4 Commissioner Sally A. Heyman
Office: 305-375-5128
Email: district4@miamidade.gov
District 5 Commissioner Eileen Higgins
Office: 305-375-5924
Email: district5@miamidade.gov
District 6 Vice Chairwoman Rebeca Sosa
Office 305-375-5696
Email: district6@miamidade.gov
District 7 Commissioners Raquel Regalado
Office: 305-669-4003
Email: district7@miamidade.gov
District 8 Commissioner Danielle Cohen Higgins
Office: 305-375-5218
Email: district8@miamidade.gov
District 9 Commissioner Kionne L. McGhee
Office: 305-245-4420
Email: district 9@miamidade.gov
District 10 Commissioner Javier D. Souto
Office: 305-375-4835
Email: district10@miamidade.gov
District 11 Commissioner Joe A. Martinez
Office: 305-552-1155
Email: district11@miamidade.gov
District 12 Chairman Jose "Pepe" Diaz
Office: 305-375-4343
Email: district12@miamidade.gov
District 13 Commissioner René Garcia
Office: 305-375-4831
Email: district13@miamidade.gov
Miami-Dade County Mayor Daniella Levine Cava
Office: 305-375-5071
Email: mayor@miamidade.gov