An active, multi-species rookery in an area as heavily developed as Kendall/West Kendall is VERY rare!
1. Species in the Rookery:
-We've documented great egrets, anhinga, cattle egrets, tricolored herons, and a rare redhead! This mixed colony of breeding also shows breeding colors and plumage. Take time to look at our photos below!
-The applicant's environmental assessment report dated Feb 2020 (and conducted on Dec 9, 2020) indicates the confirmed presence of the following:
Florida Fish and Wildlife Conservation (FWC) State Threated (ST): little blue heron and tricolored heron
Miami-Dade County CDMP: little blue heron, tricolored heron, osprey, snowy egret and white ibis
2. County DERM (Division of Environmental Resources Management) memo dated October 7, 2021 states:
-the applicant's report does not indicate how the State Threated species were utilizing the site, and did not identify a rookery
-the applicant's report was conducted on one day which is not sufficient to determine full wildlife utilization
-that DERM recommends approval of the proposed development with the following condition:
"Prior to obtaining the earlier of a soil improvement permit, building permit , or tree removal permit, the Applicant shall submit to DERM: (i) the results of site inspections to be conducted once every other month between September 21, 2021, and June 30, 2022, during the Florida Fish and Wildlife Conservation Commission's recommended wading bird survey period for Florida's South Zone ; and (ii) a plan for DERM's review and approval demonstrating how the nesting, feeding, and roosting habitat of the Florida bonneted bat, the little blue heron, the tricolored heron, and any other Federal or state threatened, or endangered species will be protected and buffered from the proposed development and to ensure further degradation of such habitat is not authorized; and (iii) a plan for DERM's review and approval demonstrating how County designated species shall be conserved. The applicant has acknowledged that compliance with this condition could result in changes to reduce the scope of the development being required."
3. NEW September 2021: Florida Fish and Wildlife Conservation added the State Threatened tricolored heron colony nesting in the Calusa Rookery to their database of nesting imperiled wading bird colonies https://myfwc.maps.arcgis.com/apps/webappviewer/index.html?
Note CDMP Conservation Element Policy CON-9C: Rookeries and nesting sites used by federal or State designated endangered or threatened species shall not be moved or destroyed. https://www.miamidade.gov/planning/library/reports/cdmp-conservation-element.pdf
4. NEW: We have a letter of support from Tropical Audubon whose mission is "To conserve and restore South Florida ecosystems, focusing on birds, other wildlife and their habitats."
5. Our Concerns:
The Oct 7th DERM memo does not accurately reflect the status of the Calusa Rookery
The County Staff Recommendations for the Oct 20th Public Zoning Hearing do not accurately reflect the status of the Calusa Rookery
Full wildlife utilization has not been provided by the applicant. The environmental survey provided was performed outside of the FWC recommended wading bird survey period for Florida's South Zone (Feb-August) with two site visits in Dec 2020 and September 2021.
Approval of the application as submitted, would permit the destruction of the Calusa Rookery, and filling the surrounding lake
US Fish and Wildlife, and Florida Fish and Wildlife, have not yet provided consultation for the confirmed presence of both high activity of the the Federally-listed endangered Florida bonneted bat, and State-listed tricolored heron.
In our opinion, the public hearing MUST be DEFERRED! We feel strongly that much more information is needed before the County should even consider a public hearing for this proposed development application. The Board of County Commissioners cannot make a decision on appropriate use of the property without a thorough understanding of wildlife utilization on the property. If the County approves the proposed development, residents are no longer able to offer input in the decision making process as there will be no further public hearings.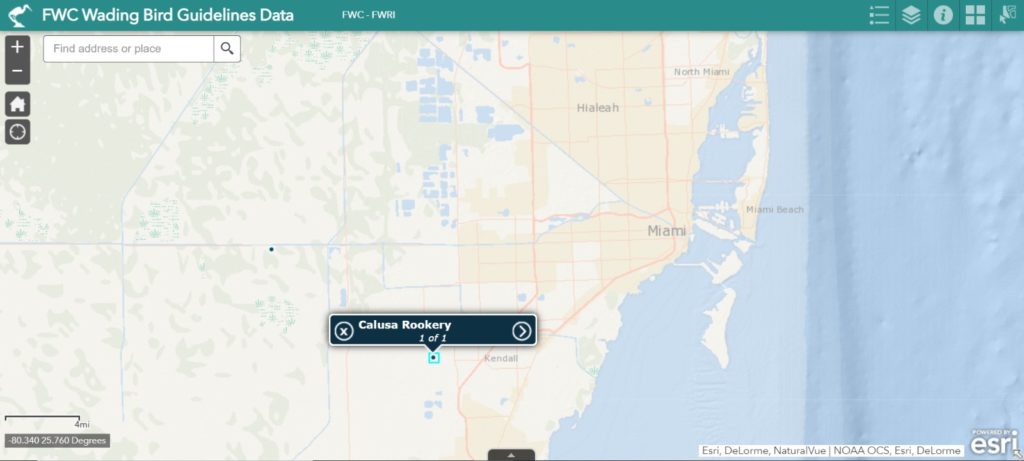 Calusa Rookery Photos taken between Feb 2021 and September 2021
Photo credit: Dennis and Victoria Horn